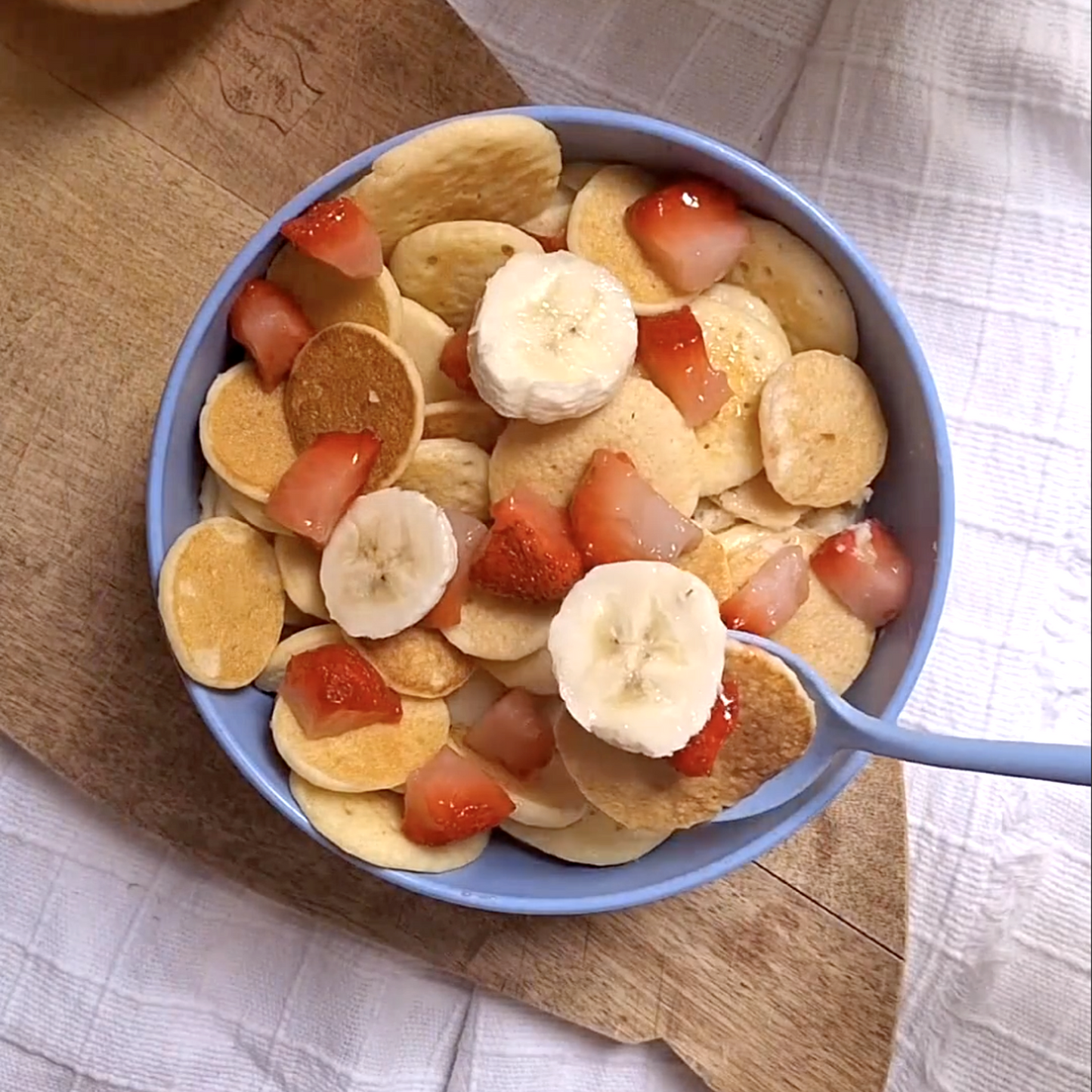 Pancake Cereal 
Preparation Time: 10 minutes | Cooking Time: 15 minutes | Total Time: 25 minutes
Ingredients:
1 cup of all-purpose flour
1 tsp of baking powder
3/4 cup of your favorite milk
1 egg
1 tbsp of melted butter
Your choice of fruits for topping (e.g., banana, strawberry)
Honey for drizzling (optional)
Instructions:
In a mixing bowl, combine the all-purpose flour and baking powder. Mix them well to ensure the baking powder is evenly distributed.
Add the egg and melted butter to the dry mixture. Gradually pour in your favorite milk while stirring. Continue mixing until you have a smooth, lump-free batter.
Heat a non-stick pan or griddle over medium heat. You can lightly grease the pan with a little extra butter or cooking spray if needed.
Using a small spoon or a squeeze bottle, pour small circles of batter onto the hot pan, making pancakes about 4 cm (1.5 inches) in diameter. You can make several mini pancakes at once, but make sure to leave some space between
Allow the mini pancakes to cook until small bubbles form on their surface, and the edges start to look set. This typically takes about 1-2 minutes.
Carefully flip each mini pancake with a spatula and let them cook for an additional 1-2 minutes, or until they turn golden brown and are cooked through.
Transfer the mini pancakes to your eco-friendly Greendish bowl.
Pour your favorite milk over the mini pancakes until they are well-covered. This creates the "cereal" effect.
Slice bananas, strawberries, or any other fruits of your choice and scatter them on top of the pancake cereal.
For a touch of sweetness, you can drizzle honey over your pancake cereal if desired.
Dig in with a Greendish spoon and savor your delightful pancake cereal. It's a fun, bite-sized breakfast experience that's perfect for those who love pancakes in a new and exciting way!