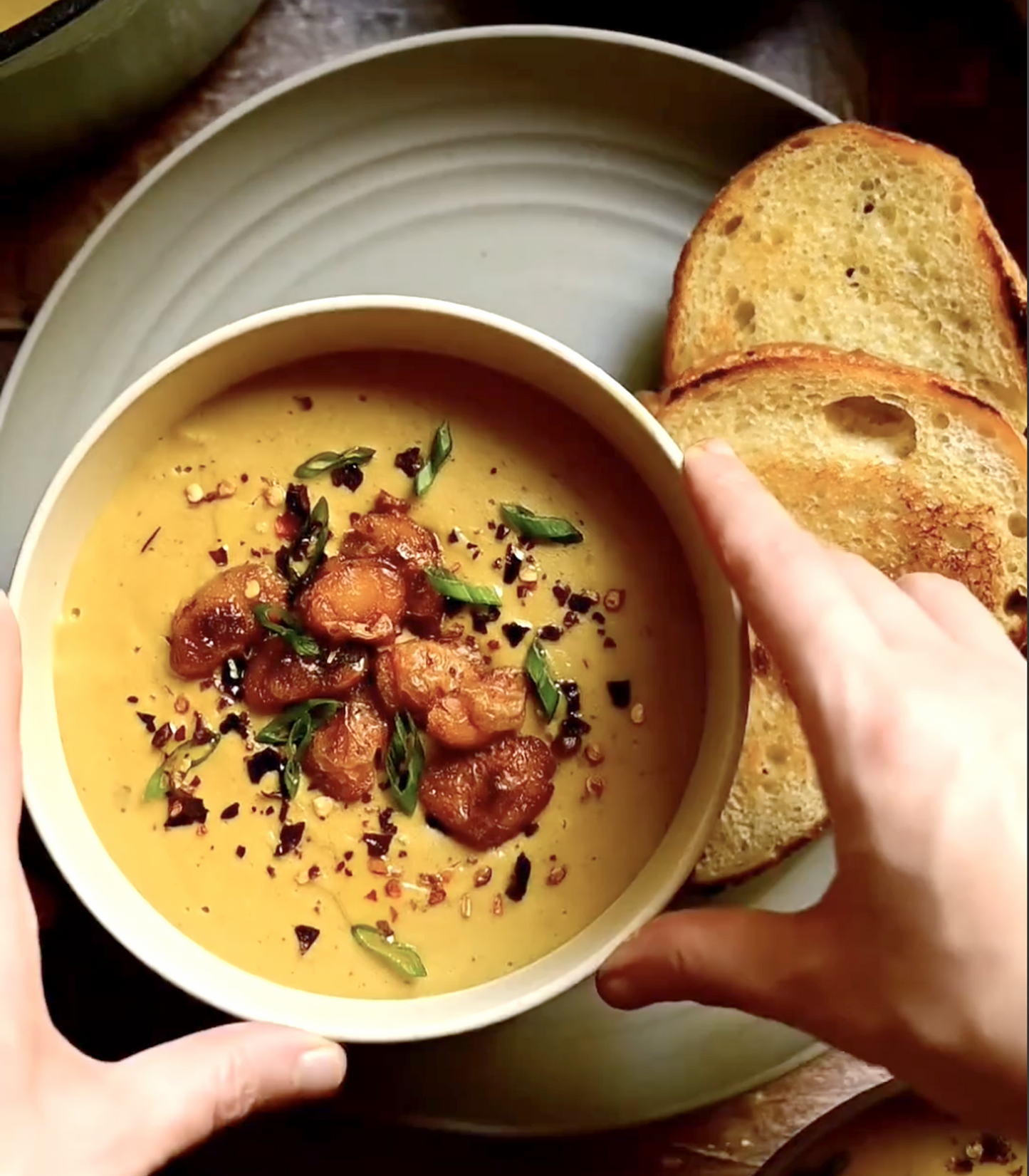 Butternut Squash and Potato Leek Soup Mash-Up
Preparation Time: 15 minutes | Cooking Time: 40 minutes | Total Time: 55 minutes
Ingredients:
1 butternut squash, peeled, seeded, and cubed
4 leeks, white and light green parts, chopped
1 onion, chopped

4 cups potatoes, peeled and cubed

4 cups vegetable broth

4 cloves garlic, minced
2 carrots, chopped
4 cups vegetable broth
1 tsp ground cinnamon
1/2 tsp nutmeg
Salt and pepper to taste
1/2 cup heavy cream (optional)

Chopped fresh chives for garnish (optional)
Instructions:
In a large pot,

melt the butter over medium heat

. Add the chopped onion, carrots, 

chopped leeks and garlic, sautéing for about 5 minutes or until the leeks are soft and 

the onion becomes translucent.
Add the cubed butternut squash, 

potatoes, vegetable broth, 

ground cinnamon, nutmeg, salt, and pepper. Sauté for another 5 minutes, stirring to coat the squash with the seasonings. 

Bring to a boil, then reduce the heat and let it simmer for 20-25 minutes or until the potatoes are tender.

Pour in the vegetable broth and bring the mixture to a boil. Reduce the heat, cover, and let it simmer for 20-25 minutes or until the squash is tender.
Use an immersion blender or a regular blender to puree the soup until smooth.
If desired, stir in the heavy cream for added richness. Simmer for an additional 5 minutes.

Pour a ladle of the butternut squash soup and a ladle of the potato leek soup into a beautiful Greendish bowl.

Garnish with fresh chives if desired. Enjoy the harmonious blend of the sweet butternut squash and the creamy potato leek soup in every spoonful of this unique mash-up!